An Dhaka Metro Rail Ticket system – officially known as Mass Rapid Transit or MRT for short – is under construction in Bangladesh's capital, Dhaka. In 2013, it was planned to establish metro rail in Dhaka with the aim of reducing traffic congestion in the overpopulated Dhaka city. The controlling body of Metrorail is Dhaka Mass Transit Company Limited. 20.1 km long MRT line from Uttara to Motijheel. On 26 June 2016, the construction work of MRT Line-6 started with the inauguration ceremony.
Metrorail in Dhaka became partially operational on 28 December 2022 with the inauguration of the Diabari to Agargaon section of MRT Line-6 by Bangladesh Prime Minister Sheikh Hasina and she was part of the first official journey of the metrorail which was opened to public traffic on 29 December 2022.
Dhaka Metro Rail All update information about of our goroli website. I hope our post most helpful for you.
How to Buy Metro Rail Tickets?
To purchase a ticket through the ticket vending machine, the passenger must first select Bengali or English option on the monitor. Select tickets for single and permanent journey.
Then the list of destination of the passengers will come. The list of fares of any station will be given. From there the passenger has to select his destination station. Then the option of how many tickets will be cut will come. For single journey a passenger cannot buy more than five tickets in one journey. Then press the OK button and the machine will ask for money. The ticket will come out after paying the money. A minimum of 20 taka and a maximum of 1000 taka can be entered in the machine.
Metro Rail Dhaka Ticket Online
Here 2 How One Can Get Tickets and Rapid Pass for Metro Rail: … People Will Have to Apply Online for a Rapid Pass," on Onlne e-Ticketing. Please under online Apply Button Click and flow instruction.
Metro Rail Ticket Registration
Registration is required to get permanent card. Registration link will be provided on DMTCL website on Thursday. Registration can be done from this day. To register you will need your name, parent's name, National Identity Card (NID) or passport number, mobile number, e-mail ID.
Registration is not required for single journey cards. You can buy this card from the station and travel. The card will be left at the time of alighting from the train. 10 years permanent card should be bought for 200 taka. This card can be recharged as needed for travel.
Dhaka Metro Rail Fare Chart
According to the fare list, from Uttara North Station to Uttara South Station is Tk 20, to Mirpur-11 station is Tk 30, to Kazipara is Tk 40, to Sheorapara is Tk 50, to Bijay Samari is Tk 60, to Farmgate is Tk 70, to Shahbagh is Tk 80, Tk 90 till Secretariat and Tk 100 till Kamalapur have been fixed.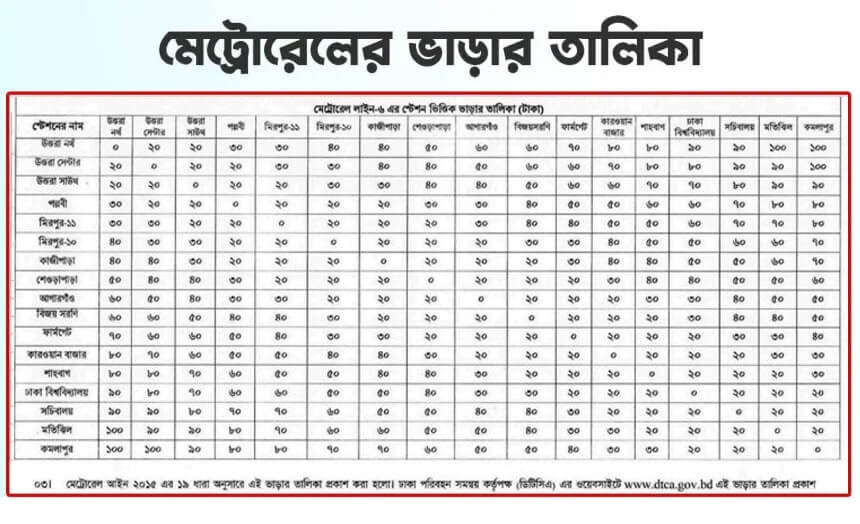 Metro Rail Cost Per KM
The fare is Rs.5 per kilometer per passenger. Minimum fare is Rs.20. The maximum fare is 100 rupees. DMTCL will provide 10 percent discount if passengers pay metro rail fare through smart card. Apart from this, war-victim freedom fighters can travel on metro rail free of charge. Besides, special concession will be kept for every single trip of people with special needs (DMTCL) Dhaka Mass Transit Company Limited.
Dhaka Metro Rail Itinerary map
| MRT Line 6 | MRT Line 5 | MRT Line 5 (N) |
| --- | --- | --- |
| উত্তরা উত্তর | গাবতলী | হেমায়েতপুর |
| উত্তরা মধ্য | টেকনিক্যাল | বলিয়ারপুর |
| উত্তরা দক্ষিণ | কল্যাণপুর | বিলামালিয়া |
| পল্লবী | শ্যামলী | আমিনবাজার |
| মিরপুর ১১ | কলেজগেট | গাবতলী |
| মিরপুর ১০ | আসাদগেট | দারুস সালাম |
| কাজিপাড়া | রাসেল স্কয়ার | মিরপুর ১ |
| শেওড়াপাড়া | পান্থপথ | মিরপুর ১০ |
| আগারগাঁও | সোনারগাও | মিরপুর ১৪ |
| বিজয় সরণি | হাতিরঝিল পশ্চিম | কচুক্ষেত |
| ফার্মগেট | নিকেতন | বনানী |
| কারওয়ান বাজার | রামপুরা | গুলশান ২ |
| শাহবাগ | আফতাবনগর পশ্চিম | নতুন বাজার |
| ঢাকা বিশ্ববিদ্যালয় | আফতাবনগর মধ্য | ভাটারা |
| সচিবালয় | আফতাবনগর পূর্ব | |
| মতিঝিল | দাশেরকান্দি | |
| কমলাপুর | | |
| Line 1 (Jatrabari) | Line 1 (Purbachal) | Line 2 |
| --- | --- | --- |
| বিমানবন্দর | নতুন বাজার | গাবতলী |
| বিমানবন্দর টার্মিনাল ৩ | যমুনা ফিউচার পার্ক | এমব্যাংকমেন্ট রোড |
| খিলক্ষেত | বসুন্ধরা | কল্যাণপুর |
| যমুনা ফিউচার পার্ক | পুলিশ হাউজিং সোসাইটি | বসিলা |
| নতুন বাজার | মাস্তুল | মোহাম্মাদপুর |
| উত্তর বাড্ডা | পূর্বাচল পশ্চিম | সাত মসজিদ রোড |
| বাড্ডা | পূর্বাচল মধ্য | ঝিগাতলা |
| হাতিরঝিল পশ্চিম | পূর্বাচল পূর্ব | ধানমন্ডি ২ |
| রামপুরা | পিতলগঞ্জ | সায়েন্স ল্যাবরেটরি |
| মালিবাগ | | নিউ মার্কেট |
| রাজারবাগ | | নীলক্ষেত |
| কমলাপুর | | আজিমপুর |
| | | পলাশী |
| | | শহীদ মিনার |
| | | ঢাকা মেডিক্যাল কলেজ |
| | | পুলিশ হেডকোয়ার্টার্স |
| | | গোলাপ শাহ মাজার |
| | | বঙ্গভবন |
| | | মতিঝিল |
| | | আরামবাগ |
| | | কমলাপুর |
| | | মুগদা |
| | | মান্ডা |
| | | ডেমরা |
| | | চট্টগ্রাম রোড |

keyword : metro rail, metro rail ticket, dhaka metro rail, dhaka metro rail ticket, metro rail news, metro rail ticket system, metro rail dhaka, metro rail ticket price, metro rail ticket counter, hyderabad metro rail ticket, metro rail latest news, updated metro rail news, dhaka metro rail update, dhaka metro rail project, metro rail station dhaka, metro rail update, metro rail in dhaka, metro, dhaka metro rail news, hyderabad metro rail, metro rail fare chart, metro rail map,
austin metro rail ticket, austin metro rail ticket price, bangalore metro rail ticket price, bangladesh metro rail ticket price, bd metro rail ticket, buy metro rail ticket online, buy metro rail tickets online, chennai metro rail online ticket booking, chennai metro rail ticket, chennai metro rail ticket cost, chennai metro rail ticket counter job, chennai metro rail job, e rail ticket, e ticket railway booking, e ticket railways,