Here you Dhaka Nagar Paribahan bus route & Fare, counter, service map and ticket counter location all information you will find all the information our website. Dhaka city Dhaka Nagar Paribahan Among the new routes, Route-22 will be launched 50 buses, Route-23 for 100 buses and Route-26 for 75 buses. Dhaka Nagar Paribahan three Route from Ghatarchar to Chittagong Road with total of 225 new buses will be launched on.
Dhaka Nagar Poribahan Bus Service Capital city in Dhaka fast time launched 26 December 2022. This great initiative has been taken by Dhaka South City Corporation (DSCC) Mayor Fazle Nur Taposh.
Dhaka Nagar Paribahan bus will run from Ghatarchar – Bachila – Mohammadpur -Dhanmondi – City College More, Shahbagh, Ramna, Press club, Paltan, Motijheel, Jatrabari, Matuail, Mouchak and Last stopies Chittagong Road, Narayanganj.
Dhaka Nagar Paribahan list of bus counters:
Dhaka Nagar Paribahan bus fare :
If this bus facility is introduced, Dhaka residents will get many benefits. They don't have to pay too much for their travel. Be able to reach the destination on time. Passengers will not be able to pick up and drop off without the designated counter of Dhaka Nagar Paribahan. This transport does not carry more passengers than the number of seats.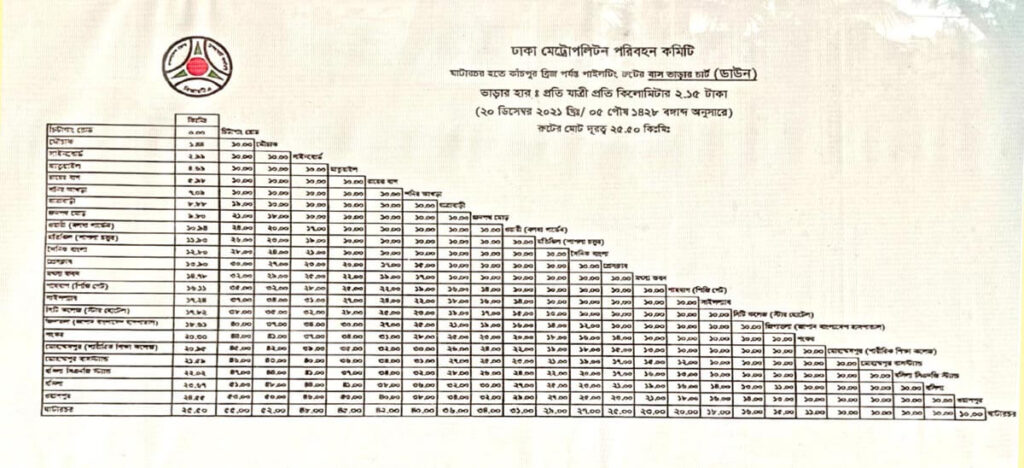 Dhaka Nagar Paribahan 5 Company Include :
Dhaka Nagar Paribahan Five Companies including Bangladesh Road Transport Corporation (BRTC) have been select to take their buses in this route. Fast time the company including bus are BRTC , Trans Silva, Jahan Enterprise, Mostafa Helal Kabir transport and HR Transport.
According to the plan of Dhaka Transport Coordination Authority (DTCA), bus service of Dhaka Nagar Paribahan will continue on 42 routes to restore order in Dhaka city. This plan covers Narsingdi, Manikganj, Narayanganj and Gazipur. In future, the scope of work will be extended up to Dhaka-Mawa (Padma Bridge).
online train ticket booking link (eticket)
Thanks for visit our site.