Here you Find the top 10 college in Rangpur or Rangpur all College list 2023. As, it is great importance to know about the better college in Rangpur Board. You should know this before acceptance admission to any college or university. After the SSC exam results published, the college admission process starts. Whatever your best results, the goal of all student is to Admission in the best college in Mymensingh Division.
All SSC, HSC & Hons, Masters College update information about of our goroli website. I hope our post most helpful for you.
Top 10 College in Rangpur
Carmichael College
Police Lines School and College
Cantonment Public School and College
Rangpur Government College
Rangpur Nursing College
Rangpur Medical College
Rangpur Public School and College
Rangpur Community Medical College & Hospital
Rangpur govt. City College
Rangpur Technical School and College
Best College in Rangpur City
Carmichael College is a traditional educational institution of Bangladesh. In 1916, the college was founded by Rangpur Magistrate Collector J.N. Founded by Gupta and named after Lord Baron Carmichael. This institution has been contributing greatly to the education and culture of greater Rangpur since its inception. This college is currently affiliated to Bangladesh National University.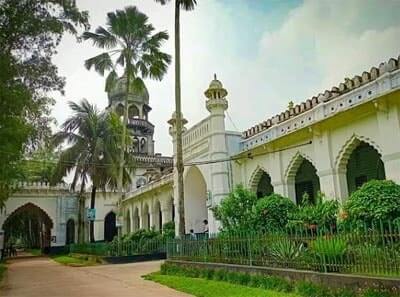 Established 10 November, 1916
Principal Prof. Sheikh Anwar Hossain [1]
Address Lalbagh, Rangpur, Bangladesh
Language is Bengali
Website www.ccr.gov.bd
Police Lines School and College, Rangpur is a non-government educational institution in Rangpur District, Bangladesh.This institution is located in the heart of Rangpur city. This institution is controlled by the police force of Rangpur district. It was initially established in 1986. It is the biggest Police Lines School and College in Bangladesh.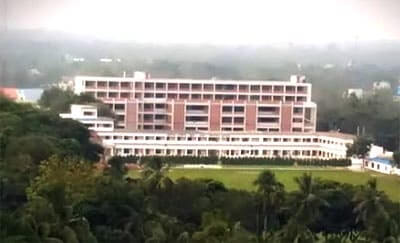 Established 1986
School number 052163532
Campus The Campus of Police Lines School and College Rangpur
Campus size 15 acres (6.1 ha)
Website www.plscr.edu.bd
Rangpur Government College is one of the higher secondary government colleges in North Bengal and the entire country. The college was established on 25 July 1963. Kailash Ranjan High School as Night College and Day College at Ram Babu's Zamindar House (Kalidham, now known as Muslim Uddin Hostel) with Prof. Emaj Uddin as Principal and Prof. Phule Hussain as Vice-Principal.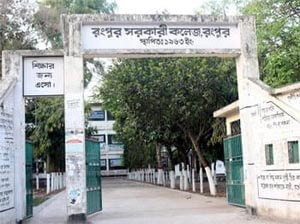 Established 1963
Principal Professor Md Mosharof Hossain
Location Radhavallabh, Rangpur,
Website www.rgc.gov.bd
Rangpur Nursing College
Rangpur Nursing College is one of the many government nursing colleges in Bangladesh. It is a government college affiliated to Rajshahi Medical University. It is located in Rangpur Medical College Hospital campus. This college was established in 2008.
B.Sc in Nursing and Diploma in Midwifery courses are running in this college. Every year students are admitted through entrance examination. B.Sc in Nursing course can admit 10 male and 90 female students.
Rangpur Medical College is located in the northwest area of Rangpur. It is 210 kilometres from the Rajshahi District and 330 kilometres from Dhaka and is located next to the inter-country highway that connects India to Nepal.There is a three-storied college building and a five-storied Hospital building with 1200 beds. Besides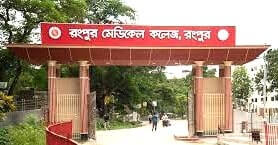 Established 18.03.1971
Academic staff 500+
Administrative staff 100+
Students 1400+
Location Rangpur, Bangladesh
Language English
Website rpmc.edu.bd
Rangpur Public School and College
Rangpur Public School and College is a renowned school and college in Rangpur, Bangladesh. It was founded in 2010. It was started functioning in 2010 from nursery to class V. Year passed it extended up to class XI-XII. All courses of this school and college have been affiliated with the Board of Intermediate and Secondary Education, Dinajpur.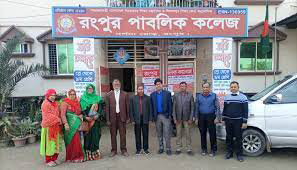 Established 2010
School board Board of Intermediate and Secondary Education, Dinajpur
School code 136959
Principal S.M. Shaful Islam (acting)
Website rpsacbd.com
Rangpur Community Medical College wonderful success within short span is possible only because we strive and achieve the target of being excellent our student. that 125 seats for MBBS and 100 seats for BDS gets filled up before a month of orientation.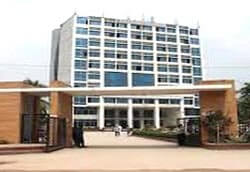 Rangpur Community Medical College
Medical East Gate, Rangpur, Bangladesh
(+88) 02589966360-61, 02589966367
(+88) 01708907291
Academic: 01718837614
Website https://rcmc.com.bd
Rangpur Government City College (Formerly: Govt. Commercial Institute, Rangpur) is a higher secondary level educational institution in Bangladesh, located in the divisional headquarters of Rangpur.
In the field of business education, this institution is the only government-run institution in the greater Rangpur region, established in 1966 and known by its present name since 1984.
Web : rgccr.gov.bd
Rangpur Technical School and College is a technical educational institution located in the heart of Rangpur city of Rangpur division of Bangladesh. The school was established in 1865. Rangpur Government Girls School is located on its west side and Zilla Parishad on its east side. It is one of the oldest educational institutions of Rangpur district.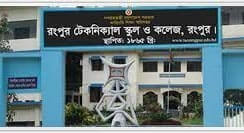 keyword : top 10 college in rangpur division, national university college list in rangpur, rangpur all honours college list, top 10 school in rangpur, rangpur college, rangpur all govt college list, top 10 national university in rangpur division, rangpur private college list
best college in rangpur, carmichael college rangpur, top 10 college in rangpur, top college in rangpur, rangpur, rangpur govt college, rangpur cadet college, rangpur medical college, best 10 college in rangpur, top college rangpur, rangpur city college, top ten college rangpur, best college in rangpur city, top ten colleges in rangpur, top ten college in rangpur city, rangpur community medical college, carmichael college