Are you looking for a good Resort near Dhaka city? Want to visit with your family or friends on holidays. Are there some beautiful places to visit around Dhaka that you don't know about or don't know about?
Yes we are giving you a good idea about some of the best resorts around Dhaka. Where to go you don't have to get confused. You can spend the day relaxing with your loved ones.
Without further ado, let's take a look at some of the beautiful places to visit around Dhaka. Remember that wherever you go, the way you get there will be your concern.
Resort Near Dhaka City Top 5
Rajendra Eco Resort, Gazipur
Rajendrapur Eco Resort full of unique beauty. Can you understand the natural beauty when you travel here?
Rajendra Eco Resort is one of the best resorts in Dhaka, Bangladesh, located at Bhawanipur near Dhaka-Mymensingh Highway Road under Gazipur District. You can travel from Dhaka quickly and cheaply. Resorts have a huge area covered by beautiful scenery – nature, forests, rivers, restaurants etc. The natural beauty makes it a great place for recreation.
With a dream to help people experience nature by touching it. Rajendra Eco Resort was established in 2009. The purpose of this resort is to touch the nature of the busy people of the city full of traffic. To maintain the long reputation and position, the resort authorities provide extensive security to the visitors in this resort.
Rajendra Eco Resort Address
Dhaka – Mymensingh Highway, Mahona Bhabanipur, Gazipur-1740
Email : admin@rajendraecoresort-ltd.com
Phone : 01711-874018, 01713638723
Web : https://rajendraecoresort-ltd.com
Nokkhottrobari Resort, Gazipur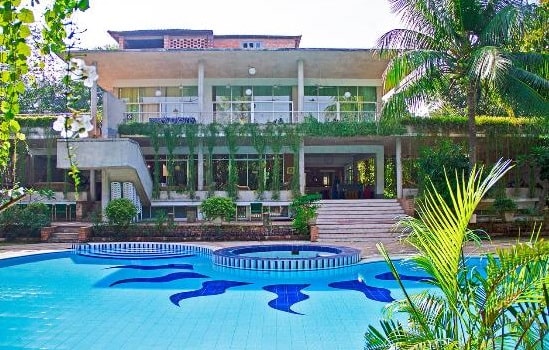 Nokkotrobari is an attractive and traditional resort not far from Dhaka. Where you can travel with friends in a beautiful environment. The resort is architected by actor Tykeer Ahmed and his wife Bipasha Hayat. The resort consists of 11 well-furnished cottages made of bamboo and wood. It is built on 14 bigha land. This is their dream project.
Finally I can definitely say, if you want to hang out with friends in beautiful surroundings, this is the best resort for you.
Nokkotrobari Resort Address
Nokkhottrobari Resort, Rajendrapur, Gazipur
+880 1772224281, +880 1772224282, +880 1977356165
Office Hour: 10:00 AM-6:00 PM
sales@nokkhottrobari.com
web : http://nokkhottrobari.com
Bhawal National Park
Bhawal National Park was established and maintained as a National Park in 1974; it was officially declared in 1982 under the Wildlife Act of 1974. By origin, it was the forest of Madhupur under the rule of Bhawal Estate. It is located in Gazipur, Dhaka Division of Bangladesh, approximately 40 km north of Dhaka city, only 20 km drive from Gazipur and 20 km from Kapasia.
Bhawal National Park Address
Rajendropur Bus Stand, Mymensingh Hwy, Gazipur 1700
Green view Resort, Uttara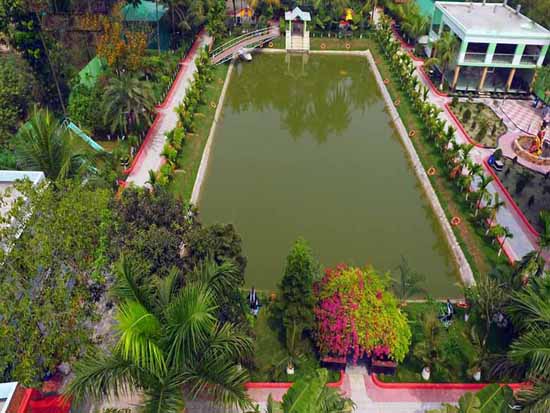 green view resort about With a of about swimming pool, boating, mini zoo, a dedicated kitchen with highly experienced chefs, decorated restaurant, ice cream parlor, rides for amusement of children, Green View Resort.
This location country-side experience just 45 minutes driving distance and 5 km from Uttara, Dhaka.
Green view resort Address :
Moinertek, Uttarkhan, Dhaka 1230, Bangladesh.
01762682702-04 (Hot Line)
01762682702 (Reservation)
01762682716 – 19 (Sales & Marketing)
infogvr@prome.com.bd, reservation@prome.com.bd
Sarah Resort, Gazipur
Sarah Resort is located in Gazipur near Bhawal Rajabari in Dhaka. This resort is different
The resort is furnished with natural materials and modern design in a pleasant environment and luxurious materials.
If you want to travel from Dhaka, it will take you less than one and a half hours. So for any program everyone first looks at the resort. The resort has premium villas, which look simply amazing. If you want to travel with your family, this is the best according to me.
Sarah Resort Address
Rajabari, Rajendrapur, Sreepur, Gazipur, Dhaka, Bangladesh
Corporate Office : Fortis Sports Club, Notun Bazar, Boro Beraid, (Behind AKM Rahmatullah University College), Dhaka-1212
Reservation Hotline : +88019 8000 3000, Email : reservation@sarahresort.com
Corporate Booking : +8801958 600 303-307, Email: sales@sarahresort.com
website : https://www.sarahresort.com
Related keyword : resort near dhaka for day out, resort near dhaka for couple, cheap resort near dhaka for couple, resort near dhaka for family, resort near dhaka price, cheap resort near dhaka, resorts near dhaka with swimming pool, resort near gazipur, resort near dhaka, resort in dhaka,dhaka resort, best resort near dhaka, resort near dhaka for couple, resorts near dhaka, dhaka resort guide, cheap resort near dhaka, dhaka resorts, resort, resort gazipur dhaka, gazipur resort, resorts in dhaka, low budget resort in dhaka, near dhaka, premium resort dhaka, resort near dhaka city, best budget resort near dhaka, best resort in dhaka, near dhaka resort, resorts, best resort in gazipur dhaka, day long tour near dhaka